AAPF Luke Harris on Nightline
Watch the Interview that Diane Sawyer did with Professor Luke Harris regarding Camden, New Jersey.
Kimberlé Crenshaw Highlight Reel
A compilation of various clips and interviews that feature Kimberlé Crenshaw.
Unequal Opportunity Race
The Unequal Opportunity Race, a short educational video produced by the African American Policy Forum to demonstrate how inequality is built into the very framework of our society. Using the metaphor of a race, the video shows that American laws and institutions created and maintained racial inequality throughout history; and that affirmative action policy initiatives can help equalize opportunity.
My Brother's Keeper: We Can't Wait
My Brother's Keeper, while a noble campaign, overlooks girls and young women of color. In this video Kimberle Crenshaw law professor at UCLA and Columbia Universities as well as the Director of the Center for Intersectionality and Social Policy Studies at the African American Policy Forum, along with Joanne Smith of Girls for Gender Equity, and Nakisha Lewis philanthropic strategist, lay out the realities on spending on young boys and men of color and #whywecantwait.
African American Policy Forum: Breaking the Silence (2014)
In 2014, Girls for Gender Equity and The African American Policy Forum came together to ask:
Why are girls of color...
•OVERLY-DISCIPLINED through suspensions, zero tolerance and arrests in school?
•INCARCERATED at the highest rates in history?
•DISCONNECTED from family & community?
•OVER-SEXUALIZED in the media?
•HARMED by abuse, trauma, and violence?
•TRAFFICKED and sexually abused?
In a discussion moderated by Kimberlé Crenshaw, girls and women of color came together to break the silence.
Kimberlé Crenshaw at One Billion Rising's Artistic Revolution- #SayHerName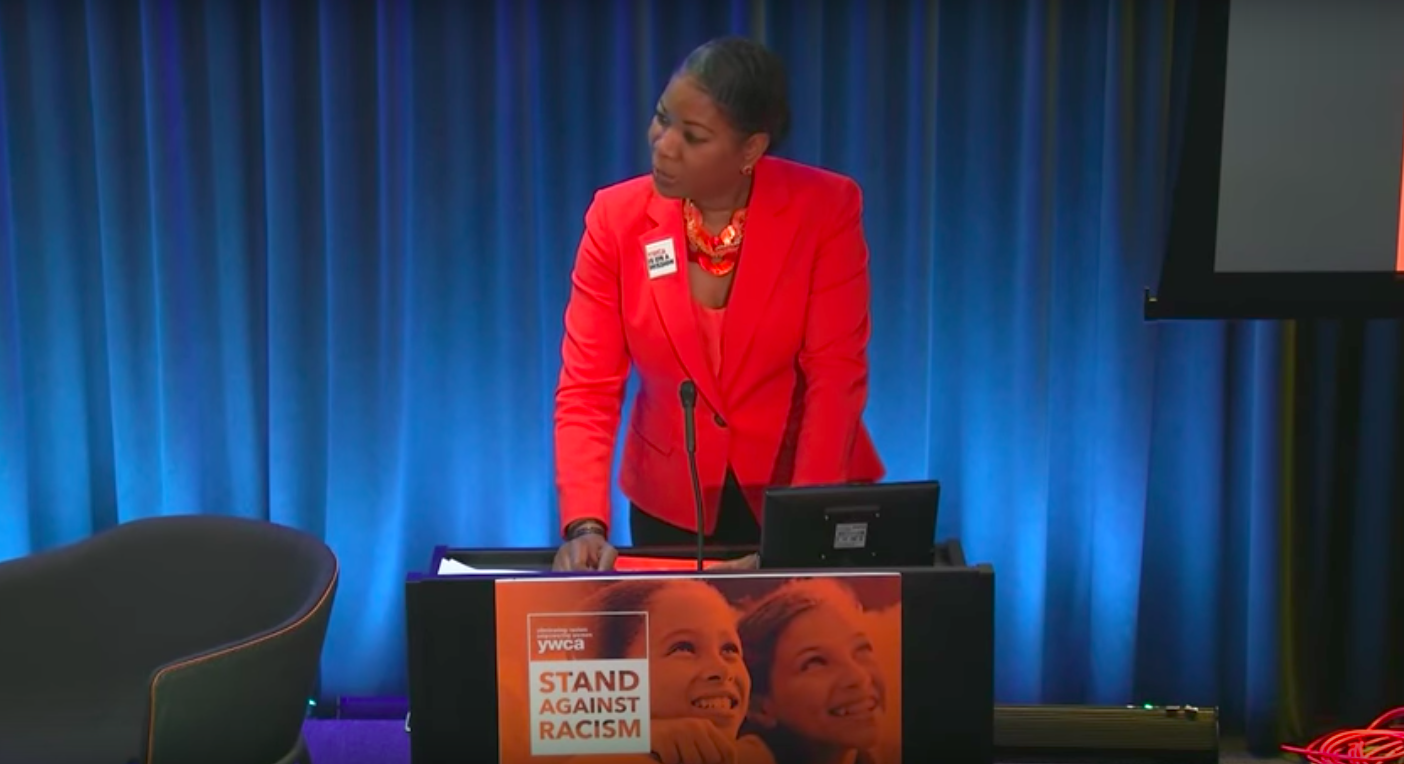 A Lead-in Event to The White House Summit on the United State of Women

Too often, girls of color are left out of conversations about racial justice and gender equity, despite overwhelming evidence that they encounter many of the same harsh realities of institutional and structural racism that boys of color face. When we pay closer attention, we discover that girls of color face stark inequities at the intersection of race and gender that are unique to them.

In this briefing, key thought leaders explore the ways in which systemic and structural inequities in the justice, education, and health spaces uniquely impact girls of color. Speakers examine the impact of trauma and violence in the lives of girls of color; the ways in which excessive school discipline and limited educational opportunity undermine their educational success and future economic opportunity; and the stark reality of the sexual abuse-to-prison pipeline. Most importantly, this event highlights policy solutions that can better support girls of color and dismantle the structural barriers that impede full racial and gender equality.
Breaking Silence: An Arts, Action and Healing Summer Camp
In July 2015, AAPF held its seminal "Breaking Silence: An Arts, Action, and Healing Summer Camp". The program was held at Vassar College in Poughkeepsie NY, and brought together over 40 women and girls of color from across the country, ranging in age from 16 to 65. Participants had the opportunity to share their stories and celebrate their achievements in a unique space that centered the livelihood of women and girls of color.
CW: The following video depicting police violence against Black women and girls may be triggering, and we encourage viewers to honor their emotional and mental wellness before continuing.

The following short film, written and produced by AAPF, seeks to lift up the voices and make known the stories of the Black women and girls so often excluded from the discourse around police brutality against Black bodies. AAPF has elected to show this raw footage because our stories are to only neglected, but often not believed. We must broaden the frameworks by which we understand State violence and we must be honest in our retelling.
Social Justice SOS: What Happened, What's Coming and Why We Must Join Together Against Hate
On November 8, 2016, Donald Trump became the President-Elect. Throughout his campaign he stoked the fears and anxieties of the entire nation. He promised to ban Muslims and build a wall to keep out undocumented Mexican workers. Together with a Vice President who has opposed marriage equality, Trump mocked people with disabilities, boasted about his own sexually assaultive behavior, and espoused narratives of widespread injustice perpetrated by minorities against white Americans, bringing white nativist rhetoric to the forefront. Already, there are reports of hate crimes and increased harassment of ethnic and religious minorities nationwide, constituting disturbing indicators of what is to come.

The social justice aspirations of hundreds of millions of people around the world rest on our collective capacity to reflect, recommit and resist. To that end, we will ask thought leaders to address these questions: How do we understand what has happened? What are the concrete threats to social justice that are imminent? How do we foreground intersectional learning and action to enhance social justice in the face the news realities?

On November 11th, concerned activists, academics, artists and thought leaders came together to discuss how we can move forward and incorporate intersectional learning and action into our next steps.
The Urgency of Intersectionality (TEDTalk)
Now more than ever, it's important to look boldly at the reality of race and gender bias -- and understand how the two can combine to create even more harm. Kimberlé Crenshaw uses the term "intersectionality" to describe this phenomenon; as she says, if you're standing in the path of multiple forms of exclusion, you're likely to get hit by both.
#SayHerName at the Women's March on Washington
On January 21, 2017, family members of Black women who have been killed by the police participated in the Women's March on Washington alongside AAPF, 1 Billion Rising and more. Listen to their stories and #SayHerName.

"For so long we as women were not allowed to have anything to do with battle, protecting our communities, protecting our country - we didn't have a voice. I refuse. I refuse as a woman, I refuse as a Black woman, I refuse as a human to shut up any longer. I'm not just a soldier for India Beaty, I'm a solider for every one of our children who has been unjustifiably taken away from us."
-Vicki McAdory, Auntie-Mama of India Beaty
AAPF Turns 20: Two Decades of Intersectionality in Action
For the past 20 years,AAPF has been on the forefront of progressive political and social organizing, both in the US and abroad, bringing intersectional analysis to the forefront of public dialogue. On Saturday June 10th, AAPF celebrated 2 decades of intersectional community building, activism, arts and research with it's 20th Anniversary Gala, Say Her Name: 20 Years of Intersectionality in Action. This mini documentary telling the story of AAPF's first 2 decades premiered at the Gala.